Orthodontics & Invisalign®
Going Straight to Star Style and Health
Crooked, crowded misaligned teeth aren't only a source of embarrassment – they are a source of poor oral health and physical discomfort as well.
That's why Beverly Hills Pediatric Dental Care decided to incorporate orthodontics into our lineup of services. What's more, we are early-intervention enthusiasts. Early discovery and treatment let us take care of alignment, spacing, and bite issues before bones have stopped growing for better, longer-lasting results, and much happier kids!
Schedule Appointment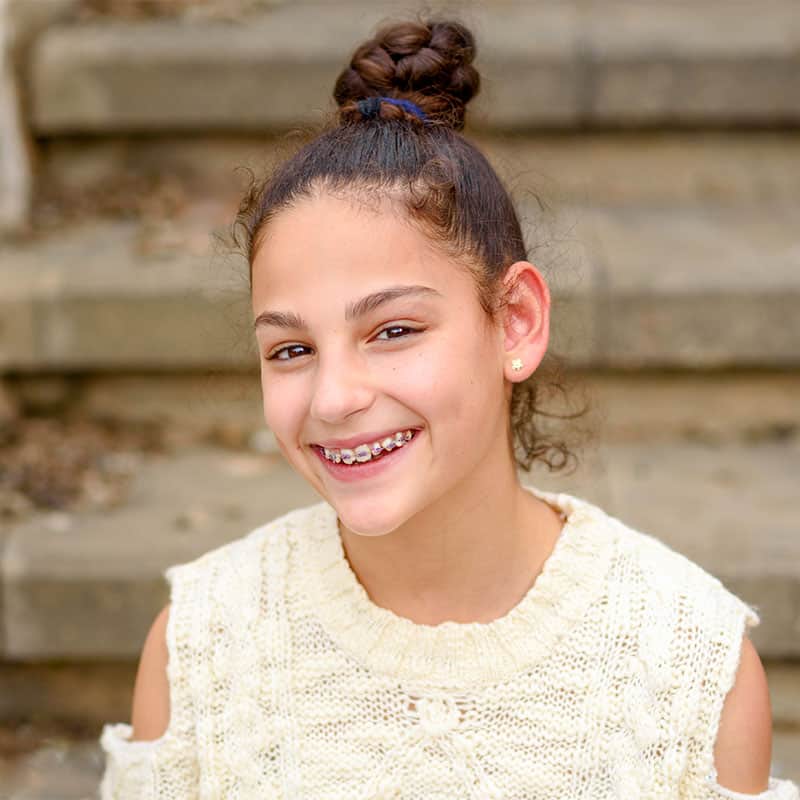 Traditional Braces
Everyone knows what traditional braces look like – you may have even had them as a kid. These braces are the best choice to withstand the rough and tumble lifestyle most kids have. Plus, they are the most effective for treating more complex issues, severe misalignment, and jaw problems. They work fast – and kids love getting new colors for their ligatures at every visit!
Invisalign
Invisalign is an awesome way to straighten teeth – without anyone noticing! Parents and kids alike appreciate the ease and comfort Invisalign offers. Instead of brackets that are glued to the front of your teeth and wires that are tightened at every visit, Invisalign is a series of smooth aligners that look more like a mouthguard than braces. As teeth shift into their ideal place, your current aligner is exchanged for the next one in the series. And, Invisalign can lift a lot of worry off both kids and parents: Invisalign aligners can be removed so proper dental hygiene can occur, eating can continue as normal, and those music lessons don't have to stop!
Invisalign Teen
Created specifically to treat tweens and teens, Invisalign Teen is the only brand to use SmartTrack™ material for improved comfort and superior ease in getting them on and off. Plus, we use iTero™ digital scanning so your youngster doesn't have to deal with yucky, goopy impressions! It's the convenient, invisible way to get your teens' teeth straight without disrupting their lifestyle!
Benefits of Invisalign
There are so many benefits of Invisalign, we just had to make a list!
Invisalign is – you guessed it – practically invisible so your youngster can keep smiling with complete confidence
Invisalign braces SmartTrack material makes Invisalign braces:

Easier to take on and off than other clear aligners
More comfortable
Smoother on delicate oral tissue
Fast – some patients see results in as little as six months

Because Invisalign braces are removable, teens can:

Eat whatever they want
Enjoy special occasions
Play any musical instrument, sing, or participate in sports without interference
Keep up with normal dental hygiene
No wonder so many of our Beverly Hills orthodontics patients are such big fans!
Expanders
Not every mouth size and shape is the same – nor should they be! We love unique smiles! But if your child's upper jaw is too narrow, it can create all kinds of problems from speech impediments and breathing issues to difficult-to-correct dental crowding. Our custom palatal expanders can solve those issues. A palatal expander is an oral appliance worn to widen the upper jaw so that the upper and lower teeth fit together properly. The earlier it is implemented, the better, and it may be the only treatment your child needs.
Technology
Orthodontic technology – Woohoo! We love it and so will you! It makes every aspect of getting and wearing braces better, faster, more accurate, and so much more comfortable. Our top two orthodontic dental technologies are:
AcceleDent™ – offers the most advanced tooth straightening features in a clean, simple-to-use package. Speed your child's orthodontics by 50% while reducing orthodontic discomfort!
iTero Digital Scanner – No more goopy impression material; all precision images and perfect treatments.
Our orthodontic treatments are so popular with Beverly Hills kids, their parents asked us to open an adult practice next door!